About Reece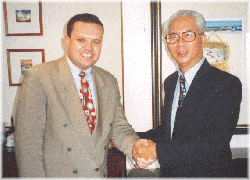 Reece Moors was born in Auckland, New Zealand 3 April 1968 into a bi-cultural family of Maori (Ngati Mahuta-Tainui and Ngati Pikio -Te Arawa) and European background. A graduate with a Bachelor of Arts from the University of Auckland, he has a double major in Japanese and Political Studies combined with Management and Economics. With a successful secondary school academic record he was Deputy Head Prefect of the largest college in New Zealand. Having lived in Tokyo Japan, he speaks Japanese fluently, is very competent in reading and writing in Japanese characters and is considered an expert in Japanese culture and protocols.

At the early age of 18 years old he was appointed Concierge and Manager of Uniformed Services of New Zealand's largest hotel, the Sheraton Auckland Hotel and Towers, was responsible for a staff of 27 as part of a 24 hour operation and was believed to be the youngest manager of Sheraton's throughout the Southern Hemisphere. He has a background in tourism having worked for Air New Zealand, Nippon Travel and while a Board Member on the Waitakere City Tourism Board, he provided special Tourism Consultancy Services to a number of capital investors including being Tourism Promotions Manager of Waipareira Trust. He has experience in training and lecturing in Travel & Tourism. Having studied Japanese industrial systems as a field trainee of Yamato Electric Corporation, he continues to consult for Asian management companies and New Zealand companies with interests in Asia. He has successfully supervised a major residential project ($4.2 Million) for a Japanese investor.

A patriotic New Zealander he joined the public service where he had a successful career of almost five years in the Visits and Ceremonial Office of the Department of Internal Affairs where he was responsible for arranging State and Ministerial Guest of Government visits, state functions and ceremonies.

Having had the privilege of looking after some of the world's most well known political figures such as former President Nelson Mandela of South Africa, Former Prime Minister of Singapore, Lee Kuan Yew and the first appointed Chief Executive of Hong Kong, Tung Chee Hwa, he has established an exclusive travel company in 1999 known as the Top 500 Club International. The client list includes top international corporates such as ANZ Bank, Airlines of the Web, Pfizer Pharmaceuticals, Oracle etc. Local clients include, HuntGlobal Hunting & Fishing, Trade New Zealand, The Treasury, Ministry of Research, Science & Technology.

His interests include public speaking, fishing, walking, golf and listening to nostalgic music. He is unmarried with a younger sister and believes in the importance of family.
Insider Travel tips from Reece Moors
Reece's Tips for Tokyo Japan
Stay at the Imperial Hotel. (Top service, top food, top location)
Eat at the Isetan Department Store Sushi Restaurant in Shinjuku. (World's best sushi)
Use the great trains system. Cheap, efficient, user friendly and clean.
Reece's Tips for Auckland, New Zealand
Stay at Stamford Plaza. (Good location, good service)
Eat at Kermadec Brasserie. (Fresh seafood, great views, informal atmosphere)
Get out on the harbour.
Take in a winery.
See the Waitakere Bush Ranges.
Reece's Tips for Christchurch, New Zealand
Eat at Mona Vale Restaurant. (Beautiful garden setting on the banks of the Avon River)
The city is great but get out to the outer areas as they are equally beautiful.
Reece's Tips for Wellington, New Zealand
Eat at Icon Restaurant Te Papa. (Great food, nice view, modern style)
See Te Papa museum!!!!
Don't miss all of the Insider Tips for other locations. Click here now.